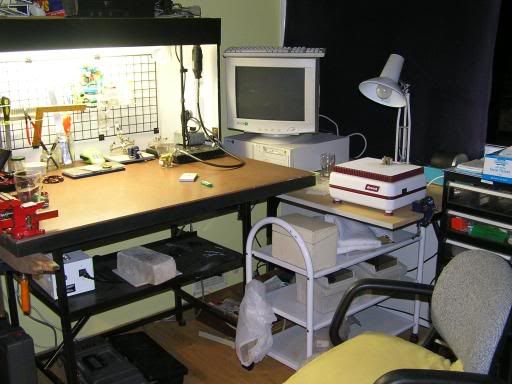 Good morning all, it's rather cold here at the moment but the sun is shining and all is right with the world.
I though today I'd take you for a bit of a tour around my work area, these pictures were taken quite a while ago and it's by no means this tidy now. That's what comes of using things and buying more tools etc etc. Anyway, I hope you find this interesting
My beautiful work bench made by my wonderful husband for my birthday last year
In addition to the things shown above I have cabinets and shelves of beads findings etc. I originally included the pictures here but thought they'd bore you to tears.
The little white box under the desk lets me use all the tools that I've 'temporarily' borrowed from my husband. He bought them when he still lived in the US so we have to change the power used.
Here's a picture of the first thing I made at the bench, infact I think it's the first piece of jewellery I made solely out of metal. It's only really a practise piece for textures and no where near good enough to wear but you'll get the idea

I'll publish a few of my more inspired (if you can call them that) pieces over the next few weeks
Well that's all for today
Enjoy
Toni